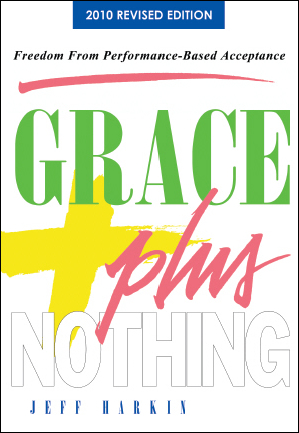 Join the ever-increasing army of Christians who are learning to relate to God on the biblical basis of grace alone.
Grace Plus Nothing
Freedom from Performance-Based Acceptance
Author:
Jeff Harkin
Format:
5.5 x 8.5 Paperback
Pages:
292
Price:
$17.95
ISBN:
978-0-9790296-4-6


Contact: Appliedgracepubl@aol.com
Grace Plus Nothing
Freedom from Performance-Based Acceptance
A lifesaving book for many Christians!
Every Christian should be aware that Jesus Christ is full of grace and truth, not just grace (John 1:14). Therefore, what I mean by grace plus nothing is not some sort of cheap grace without truth. My intent in naming this letter Grace plus Nothing is to emphasize the biblical truth that, in the formation of Christian character, God's truth works only through his grace, not apart from it.
I emphasize grace plus nothing because there has always been a tendency in the body of Christ to preach salvation by grace through faith and then to attempt sanctification and holiness through every imaginable form of legalism. Certainly the Lord calls every Christian to press into sanctification and holiness, but neither happens apart from grace: Legalism- the attempt to justify ourselves before God through good works - can never satisfy God. Therefore, sanctification is by grace: "For sin shall not be master over you, for you are not under law, but under grace. . . those who receive the abundance of grace and of the gift of righteousness will reign in life through the One, Jesus Christ" (Romans 6:14; 5:17).
About the Author
Before the grace of God in Jesus Christ changed his life, Jeff Harkin spent many years troubled by addictions, anger and hopelessness. Jeff has also had extensive pastoral counseling and recovery ministries. He has three adult children and one grandchild (so far). Jeff Harkin's life exemplifies the weakness of legalism and the power of grace.
Endorsements
From my college days to my current role as a pastor and overseer of a growing network of churches, Jeff Harkin's teaching on the grace of Christ has deeply impacted my life. It has helped me experience joyous liberty and genuine transformation. This book is brimming over with refreshing Biblical insights and riveting personal stories (testimonies) of the life-changing power of God's grace.
Our people and ministries currently are using Grace Plus Nothing for personal devotions and leadership training, as well as in one on one and small group discipleship. We are thrilled to have Grace Plus Nothing as a teaching and training tool to develop grace filled disciples of Christ in this new decade!
~ Pastor Gary Barber, The Oaks Community Church, Bakersfield, California
I have a thirst for God, but am plagued by unbelief. Jeff Harkin's book, "Grace plus Nothing," helped me to understand that God has no preconditions - the Cross covers all human conditions - even unbelief. This crucial insight allows me to have an intimate, honest, and sustaining relationship with God. If imperfect faith or anything else stands between you and God, this book will be of immense value to you.
~ Kenneth E. Gilbert, Ph.D., Research Professor of Physics, University of Mississippi
Grace plus Nothing will bless the novice as well as the theologian. I have especially enjoyed how much our men have embraced it. It has worked well for small group discussion, and families have been enriched when going through it together. Those who have embraced Grace plus Nothing have been impacted wonderfully because it is easy to understand, yet it challenges us to truly believe what God has revealed and made possible through the work of Christ. I highly recommend this book to anyone interested in discovering the grace of God.
~ Tim Atchley, Senior Pastor, Harvest Church, Knoxville, Tennessee